by Kupenda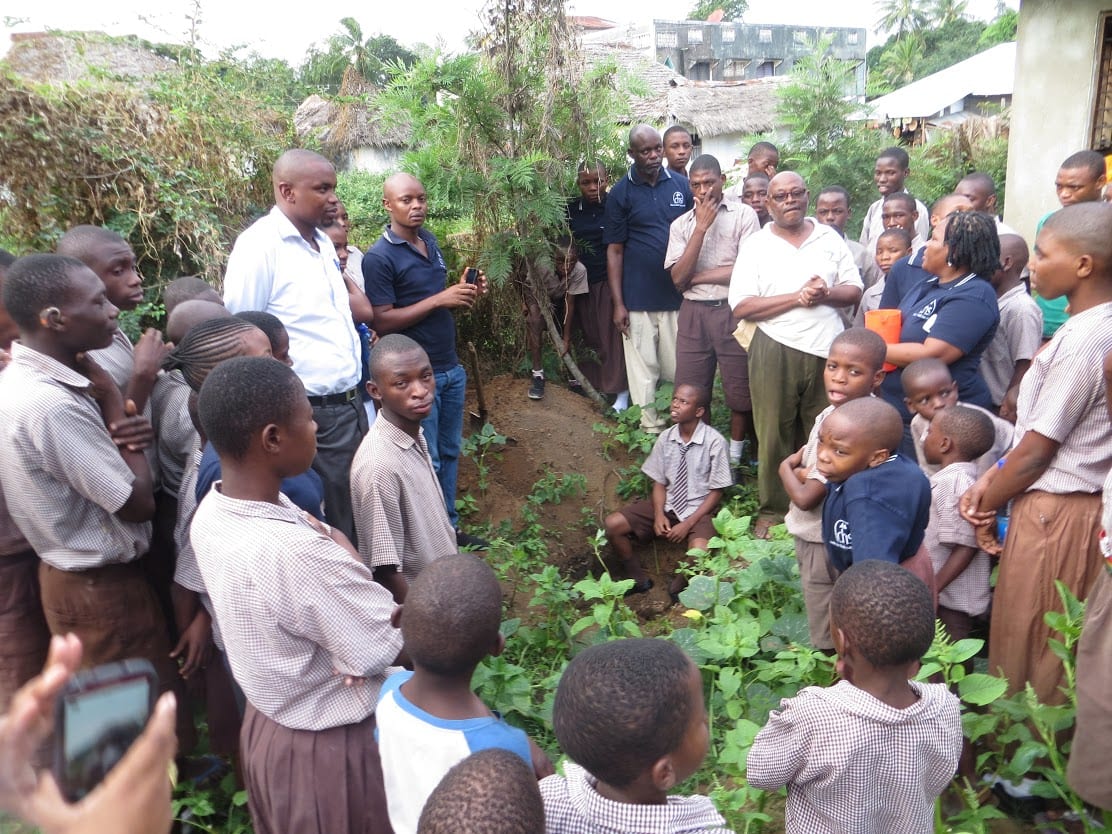 "You have been a faithful and peaceful tree in whose branches we have built our nests…
We all loved you but God loved you more." 
(Quote from the condolence card given by the kids at the Gede Special School

Patty Prasada-Rao reflections on the Gede Special School ceremony honoring Kupenda and Cynthia's deceased father…
"Bauer" – that's what they called him here.  Richard M. Bauer, Cynthia's dad, was called that or "Grandfather" by most of the kids.  "If it had not been for Bauer…" That's the beginning of the poem recited by a few of the Kupenda kids during a special ceremony on Wednesday  (July 1) honoring Cynthia and her father, who passed away in March of this year. You can view the video of the poem here.
"Bauer" had come to Kenya in June 2011 to see in person the work that Cynthia helped start back in 1999.  His presence here was larger than life, as the children knew that he (& Cynthia's mom, Sandra) were the reason that Cynthia believed that she could be and do anything.  And why she is such an inspiration to the children of Kupenda, like the ones who recited the poem at the Gede Special School today.
It's an amazing thing to watch what you've only read about come to life right in front of your very eyes.  I wish I could have recorded the excitement I heard when Cynthia got out of the car the moment we arrived at the school.  After not seeing her for over a year, the children with physical limitations were the ones nearest the car and began calling out:  "Cinnnn-dy!  Cinnnn-dy! CINDY!!!!"  There was no way to keep from smiling (both inside and out) seeing and hearing their exuberant love for her.
You could feel the excited anticipation as we waited in the deputy head teacher's office at the Gede Special School (The first Kupenda supported school) on Wednesday.  We started with a feast: heaping plates of meat pilau and vegetables (school staff were surprised to see me eating with my fingers, but any of you who know me are not surprised that's the favorite utensil for this Indian girl!).
The ceremony began with introductions to the amazing teachers and support staff of the Gede Special School, who care for the 130 students in different departments, including children with hearing impairment, cerebral palsy, and other physical disabilities.  Madam Karo, headteacher, outlined the holistic care they provide for these children in academics, medical care, physical activity, social interaction, residential/home care all in a family environment.  Her commitment and devotion to these children has been the strength keeping the Gede School going for more than 12 years.  The program included songs by teachers and students, words of encouragement from a local pastor, affirmation from Leonard (Kenyan Kuhenza Director), prayers, presentation of a special card for Cindy, and the poem, "If it had not been for Bauer."
It's true, what they said in the poem, if had not been for Cynthia's dad and mom believing in her and Cynthia's own motivation to let her own disability (born missing a hand) bring good things to others, Kupenda wouldn't exist.  And if it had not been for Bauer, they said they would be left hidden at home, unable to go to school.  If it had not been for Bauer, they wouldn't be making the progress they are and wouldn't know that so many people believe they have gifts to offer this world.  Cynthia reminded them that though others may talk about what she is doing for children with disabilities, that it is they, who bless her life and make it worth something so much more.
My eyes were brimming over with tears, sitting beside Cynthia while this beautiful poem was recited by a mix of children, some in wheelchairs, some standing, but all speaking clearly and confidently of the blessing in their life because of "Bauer." One of the local pastors shared that while Cynthia's dad was in the hospital, the whole Gede Special School community gathered in prayer for him.  And when he passed, their tears of love and sadness joined with the Bauer family's own grief.  This day they got the chance to express that love in tangible ways for their beloved Cynthia.
We ended this special occasion with planting 3 trees in the school, one by Madam Karo (Gede Special School Head Teacher) and Leonard Mbonani (Kuhenza Director), the reason that Kupenda's work is successful on the ground in Kenya.  The other two trees were planted with Cynthia and 2 children from the Gede Special School:  Rashid (who is the sponsored child of Cynthia's parents) and Moses, who was caught in a picture being swung around in a blanket by Mr. Bauer (a game he used to also do with his own children when they were young).
"If it had not been for Bauer…"  Cynthia's dad would be embarrassed by the fuss being made over him, when all he was doing was what he felt called to do – be a good father and support his daughter in this work of Kupenda.  What's the big deal?  Perhaps an example from this special day can provide an answer:  As the children transitioned from the program to the tree planting outside, they started filing out of the dining hall.  Without anyone prompting or guiding them, the older deaf children began pushing the wheelchairs of the children with physical disabilities down the ramp, while others picked up the younger children and carried them in their arms so they could be present at the tree planting as well.  They, like Mr. Bauer, would not think they were doing anything special, just doing what they can to help each other, that's all.
Perhaps, if each of us did just that, then maybe our lives would be remembered too, by "If it had not been for—–" and love would be multiplied.  Kupenda* for the children!
(*Kupenda means "to love" in Swahili)
With love and gratitude,
Patty Prasada-Rao
Kupenda for the Children board member
---
Want to keep updated with the work we do? You can find us on Facebook, Instagram, and our blog to learn more about who we are and what we're up to.
If you're interested in supporting one of the many children we serve, head over to our sponsorship page to learn about how you can make a difference.
---