by Kupenda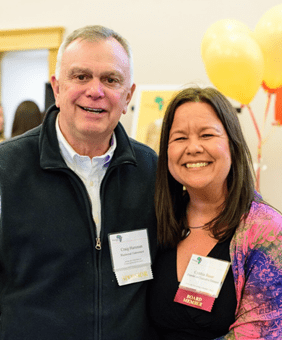 Craig Hammon wears many hats: he's a mentor to Kupenda's founder, a child sponsor, a generous donor, a guest speaker at our 2019 gala, and a trustee at a Foundation that has invested more than $650,000 in Kupenda's work to improve the lives of children living with disabilities. For more than a decade, Craig also worked as the Executive Director of a global nonprofit focused on providing care for people with disabilities. These various roles have given Craig unique expertise on Kupenda's work, which he shares in the interview below. In addition to describing his thoughts on Kupenda's programs and our role in the global movement around disability inclusion, Craig also explains why his family and Foundation has supported Kupenda so generously and consistently over the past 8 years.
How did you first come to learn about Kupenda's work?
Craig: About 10 years ago, my old college roommate introduced me to Cindy [Kupenda' founder], and she told me about… Kupenda, and I was very intrigued. At that time, I had spent 8 years as an Executive Vice President at an organization that worked with kids with disabilities…. it was a huge wake-up call for me. [Before that] I would probably say I was relatively insensitive to the issue of disabilities. What I learned [about] was not only the suffering of the kids but [also] the ignorance of the parents, the pastors, the churches who, instead of helping with the problem, exacerbated it. That whole idea of kids [with disabilities] being condemned to death or isolated and removed from any chance of school or interaction or marriage or work – just seemed incredibly unfair to me.
How is Kupenda's work different from other organizations helping people with disabilities?
Craig: I think you guys are different in that you take it seriously to find the people who are the decision-makers and who impact these kids: parents, pastors, witchdoctors, leaders in the community, other parents… all of whom [lack] knowledge [about] the cause of disability and [have been] taught that disability was a curse and that if they were a parent they were guilty.
Why did your foundation choose to support Kupenda over other NGOs?
Craig: The foundation's donor had been a tremendous advocate for the disabled. We realized that if we were going to be good stewards of [his] resources we had to take this whole issue [of disability] much more seriously so we began to look around [and] Kupenda just felt like a right fit … So many organizations try to do everything in every country, and they do a lousy job everywhere, but it looked to us like Kupenda was focused on a specific area, expanding and growing, and not just doing the same thing over and over but going deeper and broader. It seemed to us like it was a very comprehensive, holistic approach.
And why has the foundation continued to support Kupenda all these years?
Craig: We saw an organization that was well-led, that had a passionate U.S leader who really knew what she was doing and was very professional and very compassionate, and yet it was [supporting] a Kenyan organization founded by a Kenyan board – not just a bunch of Americans running over to do work with disabled kids. [Also], we loved that a significant amount of the [fundraising] came from Kenya which was rare with any other NGO we had worked with. Due to the experience with Kupenda, we are now making almost every grant [required to be] matched [by staff in the implementation] country.
How have you seen Kupenda change over the past 8 years?
Craig: When we first met Cindy it looked like this was an organization with enormous potential that was understaffed, under-resourced, making more bricks with less straw, working like crazy. After a couple of meetings with Cindy, we made a decision that we would invest in capacity building which allowed the organization to hire this incredible development person. Frankly, we guesstimated that after three years Kupenda could triple in size and that's just what happened.
Aside from new staffing, what else do you think had contributed to Kupenda's growth and success?
Craig: We get really good financial reports [from Kupenda] which we pour over carefully, and … the program's strategy evolves and develops and expands every year. I love the way Kupenda has pivoted in Covid-19 and said, 'Instead of crawling in a hole and coming back in a year we're going to go deeper and harder.' That's the beauty of having a Kenyan-led organization. Whether you guys could go over [to Kenya] or not, there is Leonard [leading the Kenyan team], and they just keep doing their thing. To me, the perfect combination is a nationally-led organization that's tied into people like you that can … plan strategically and look at the future but also provide the reports and accountability as well as provide donors with the sense that their money is being used really well.
What do you hope for Kupenda for the future?
Craig: I'm always a bigger-and-better guy, so there was a time when I thought, 'Why don't they go to 3 or 4 more countries?' But I saw, as I talked to you guys, the beauty of having a program that gets bigger … and better every year but doesn't try to solve the problem all over Africa but becomes a model that other people can come to see and learn from. And a model that is so well recognized that you're [being] asked to come to Sierra Leonne or Malawi or wherever and take advantage of the people that are already there with other organizations – almost all of them ignoring people with disabilities. I think Kupenda has had an incredible effect on [in helping other] organizations deal with their sensitivity, inclusion, and commitment in working with disabled people for the first time.
Why do you think other organizations are open to replicating our work?
Craig: One thing I have liked about [your U.S. Director] Cindy from the beginning is that she is relatively fearless. She doesn't hesitate to go to the King and say "The emperor has no clothes … You've got a million sponsored kids around the world and no inclusion at all of the kids with disabilities!" So, therefore, this little, relatively small nonprofit organization on the east coast of Kenya is beginning to have a pan-African effect.
Are there any other aspects of our work you find particularly effective or unique?
Craig: I love the fact that [your Kenyan Director] Leonard, stands up to [your U.S. Director] Cindy. He's got the courage to not just sit there and say, "Whatever the mzungu [white person] says I am going to do." It's truly a partnership – give and take – iron sharpens iron. It's not the typical nonprofit organization model where somebody from America or Europe comes over and calls all the shots.
Do you have any memorable moments with Kupenda over the past 8 years?
Craig: I guess one of my stories would be with a large foundation in Texas. I was able to make an introduction and [their representative] went over [to Kenya and was] very impressed with Kupenda's work. And then he brings one of the foundation's founders to Kenya. The founder spends an hour [with your Kenyan team] and he is so moved and so touched that he goes and tells his foundation staff that they need to do more for Kupenda and they need to focus [the foundation's] priorities on disabled children. So you have leveraged through the visit… a vision that others were able to catch on to of incredible passion.
[Also your] workshops where 25 pastors come and next thing you know 16 of them are preaching sermons about disabilities in the next month and beginning to make their churches open [to people with disabilities]. Whether you're a Christian or not, you have to acknowledge that the church in Africa is probably the most credible organization there is and it is owned and operated by the people. When you've got the churches, you've got the community.
What would you say to people who are learning about Kupenda and considering becoming a child sponsor or donor?
Craig: There are a lot of opportunities out there and a lot of needs and I can't think of a better investment right now, both in the program and this tipping point. [Our foundation has] put a lot of money and time into Kupenda, hoping to draw thousands of other people to the party who would see the vision and want to give. I think when you look at all the causes and needs and nonprofits out there (and there are many that are incredibly good) but when I look at Kupenda I think about reaching the last, the least, and the lost. It's the people in the poorest countries, the poorest people in the poorest countries, and the poorest people with disabled children in the poorest countries.
I feel like Kupenda is right at the edge of the greatest human need where a dollar can make an enormous difference in a child's life. A dollar won't just help the child go to school — these are children that had no hope, no future, probably never got a job, never got married, never participated in society. All of a sudden all of the doors begin to open up that were previously closed not just due to their disabilities but also their abject poverty. If not for Kupenda, many of these kids likely wouldn't have had a chance. You're their voice, you're the voice of the pastors, the voice of the church, the voice of the parents, and you're the voice to the people in the United States who can make an enormous difference with a small amount of money.
Your matching campaign really helped us with that this winter! We can't thank you enough!
Craig: Part of our hope, with these matching grants we continue to give is that we would put relatively significant amounts of money to work to motivate thousands and thousands of people to match that money to become ongoing supporters of Kupenda. All of a sudden, a thousand people [are] giving 100 bucks a year — which is exactly what we want!
Any final comments to the Kupenda community?
Craig: One of the things we've done [at our foundation] is to focus on a few key organizations that we think are worthy of support, and that we could help in some way to radically expand in the future and make an enormous difference in the world. Kupenda is frankly at the top of that list, so we look back on the last 8 years of support as a good thing to have done but also as an investment that's going to be paying huge dividends for years to come. We're going out of business in 10 months, but all of us, and I, in particular, am confident that 10 years from now, what we invested in Kupenda with time, energy, and money will continue to be paying huge dividends.
---
Want to keep updated with Kupenda and Kuhenza's work? You can follow us on Facebook, Instagram, LinkedIn, and Twitter.
And sign up for our monthly newsletter and updates here. 
If you're interested in supporting one of the many children in need, head over to our sponsorship page to learn about how you can make a difference for just $30 / month. You can also help children with disabilities stay safe and healthy during COVID-19 by donating here.
---