by Kupenda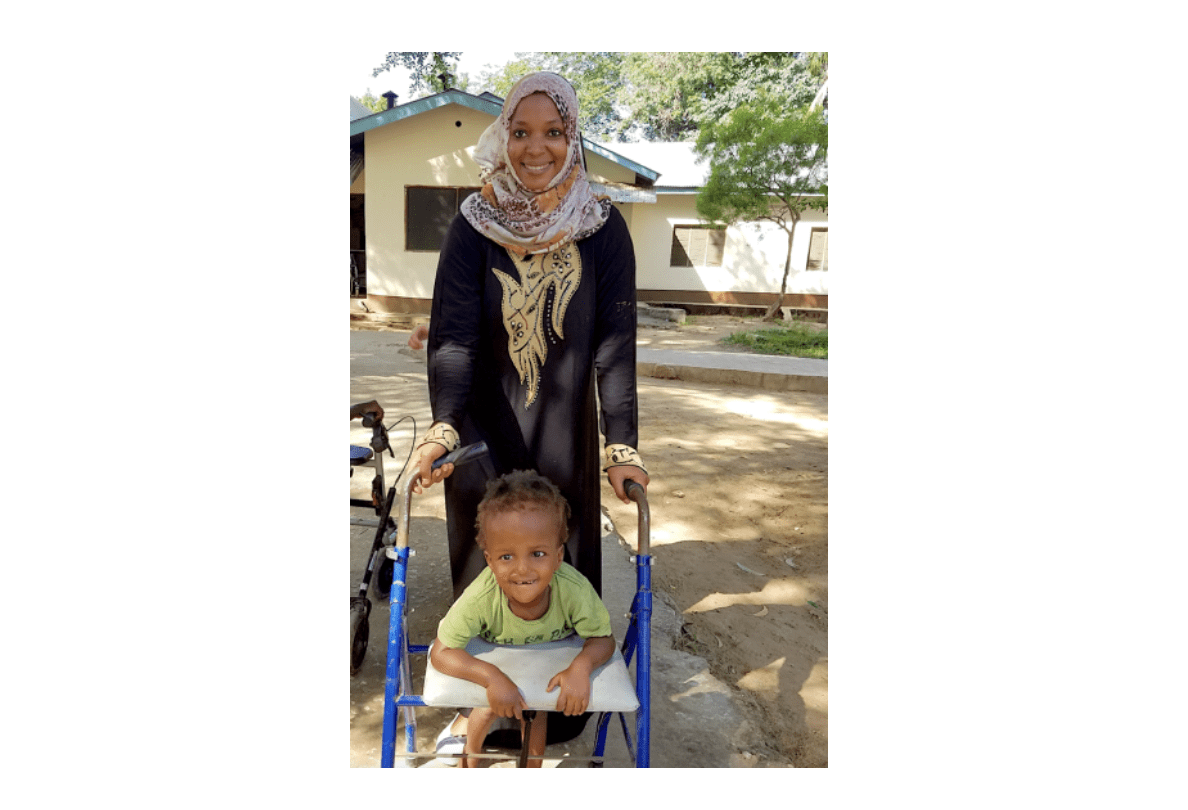 Four years ago a generous philanthropist named Maurizio Beghelli noticed that many of the children in our programs were in need of occupational therapy. Although some children were receiving these services at Gede Special School (GSS), there were many children waiting for care. Their parents and caregivers were also eager to be trained on how to help their children with therapy exercises at home, but these trainings were not available.

In response, Maurizio met with Kupenda's Kenyan Director, Leonard Mbonani, and the GSS headteacher at the time, Martha Karo, and offered to fund this position.
Today, the therapist they hired has trained dozens of parents and caregivers to provide therapy to their children with disabilities and has helped improved the health and mobility of hundreds of Kenyan children with paralysis, cerebral palsy, spina bifida, muscular dystrophy and other physical disabilities.
Maurizio shares the following about Mwanahawa Joto, who he affectionately calls by her nickname, "Hawa":
"Hawa started working with us on February 1, 2018. GSS had grown a lot (and also rapidly) in those years and was getting better organized. The GSS boys had increased and many needed support at the therapy room. A great help was needed [to support] the important work of [the school's therapist], Dr. Musa.
The selection was made by the Kuhenza team with the support of Madam Karo… I kept my word to support the first years of Hawa's inclusion and… now here we are celebrating our fourth year together!!!!
Anyone who has crossed HAWA's smile even once will immediately perceive the strength of this woman."
Maurizio's wife, Lucia Pluchino, also says:
"Hawa, over time, has become the reference for kids when they are sick and seek relief, or when they are sad and seek comfort, or when they are happy and want to share their joy with her because often she also knows how to transform herself into all of them.
 It is reassuring for us to know that they can find, far from their respective families, a hug and a smile in a person we know for her great professionalism (let's not forget that she can work miracles in those little bodies) but also for her immense humanity and love for kids."
Maurizio concludes saying:
"Hawa always wants to commit and do good, to help with energy and sweetness, with the spirit even before with the hands. Even when Hawa talks to special kids, she makes herself available in action and with LOVE.
It is a great satisfaction to see her so loved by children, and then you can see the results of her work and commitment.
I can conclude and summarize my thoughts by saying that my wife Lucia and our many, many friends say: HAWA, ASANTE SANA [THANK YOU]!!!!!!!!!!"
---
Want to keep updated on Kupenda's work?
You can follow us on Facebook, Instagram, LinkedIn, and Twitter.
And please also sign up for our monthly newsletter and updates here. 
If you're interested in supporting one of the many children we serve, head over to our sponsorship page to learn about how you can make a difference for just $30 / month.
You can also help children with disabilities stay safe and healthy during COVID-19 by donating here.
---