by Kupenda
Posted on December 1, 2015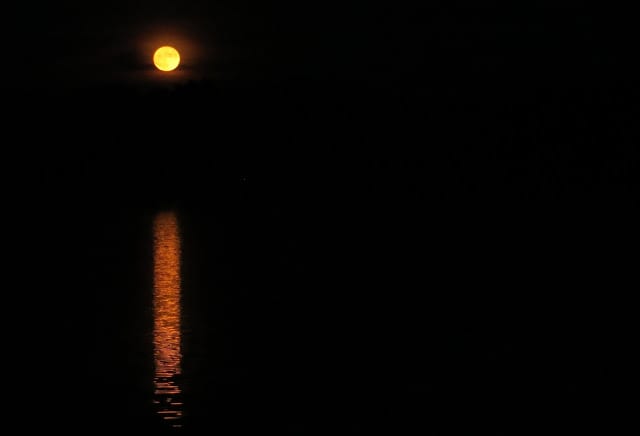 "The light shines in the darkness, and the darkness has not overcome it." ~ John 1:5
Dear Friends,
I hate that darkness comes so early, but it makes for a beautiful moonrise.  This was my thought as I watched the 5 pm lunar glow emerging over the lake in my backyard.  It reminded me of my friends' son, Shane Lauer, as I was getting ready to join 150 people for his 24th birthday celebration last Saturday. I hate how Duchenne's muscular dystrophy continues to deteriorate Shane's muscles and will likely rob the world of him far too early.  I hate the visible heartbreak of those who love him, especially his guardians, Carissa and Ben Mortenson.  Through the tears, I also saw and experienced a unique kind of joy as individuals shared how Shane made them a better person because of his kindness, gentle spirit, encouragement, and perseverance. Shane could legitimately make a lot of excuses to do nothing but be angry at God for his condition.  Instead, he chooses to make the most of the life he has and reflect God's love. 
In addition to creating beautiful paintings with the limited movement he has left in his fingers, he is also a founding member of Athletes Serving Athletes.  This organization enables people with limited mobility to compete in anything from a 5k to an Ironman Triathlon, with a support team.  Shane has competed in multiple marathons, and triathlons inspiring others, like him, to do the same.  His guardian, Ben Mortenson, is his "wingman" for the running portion of his races.  Because of this experience, I asked Ben to support another young man, with similar challenges, in Kupenda's first 5k race in Kenya. I've never seen a bigger smile on Mohamed's face as he seemed to fly across the finish line in his wheelchair.  This is just one way Shane impacts lives on the other side of the world.
The families affected by disabilities we work with in Kenya and Tanzania are inspired by Shane's life and his unique family (his guardians are also raising three other children with disabilities).  Ben and Carissa told his story on their trips to Kenya and our Kenya director also shares about Shane when meeting with pastors, community groups, parents, and other organizations.  Because of Shane's example, families and communities, who once thought their children were cursed, are learning they have value after all.  Thank you, Shane!
Carissa often says "good and hard reside together".  One does not negate the other but both can exist in the same circumstance.  I saw that so clearly at last Saturday's celebration. I'm so grateful for how Shane and his family continue to bring hope to the lives of so many children in Kenya, Tanzania, and wherever God may lead.
On this "Giving Tuesday" think about this generous young man and the light he reflects on others through the darkness of disability. Shane has done more from his wheelchair in 24 years than most do in an 80-year life span.  Contribute to Kupenda for the Children today and more Africans, with disabilities like Shane's, will also know their lives matter!
Let's blind the world with moonlight!
With much love and gratitude,
Cynthia
Cynthia Bauer
Founder/Director
Kupenda for the Children
PO Box 473 Hampton NH 03843
978-626-1625
[email protected]g
---
Want to keep updated with the work we do? You can find us on Facebook, Instagram, and our blog to learn more about who we are and what we're up to.
If you're interested in supporting one of the many children we serve, head over to our sponsorship page to learn about how you can make a difference.
---