by Sandra Bauer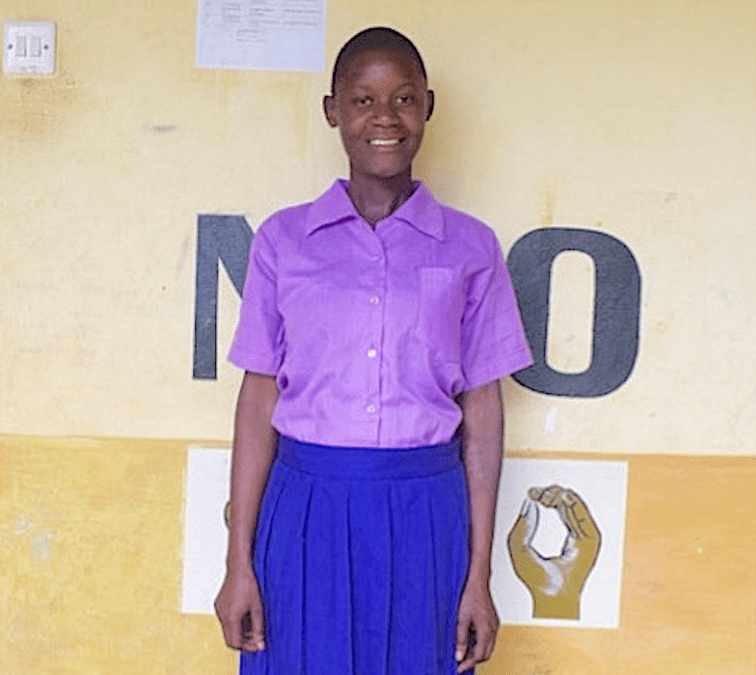 Kadzo is a young woman who was born deaf. Growing up, her parents divorced and her mother was left to care for eight children with only the modest income she received from farming.  
Fortunately, thanks to a couple in the United States who decided to sponsor her, Kadzo was able to begin attended the Marafa Special School at the age of 14. At first, Kadzo struggled in school, but she improved as she mastered sign language. 
Her success also influenced her family. In Kenya, most parents, including Kadzo's, do not have the ability to communicate with their deaf children. After 19 years of relying on gestures for communication, Kadzo's mother started to attend the Kupenda-sponsored sign language workshops, which enhanced her ability to interact with her daughter.
Looking to the Future
At 22 years old, Kadzo began to express that she would like to be a tailor. This is a skill that would generate income for her and her family. It also gave her an incentive to do well academically. 
Unfortunately, the next year, Kadzo's family situation took a turn for the worse and resulted in Kadzo's grades declining. A drought in the area caused her mother's ability to earn a living to deteriorate and the family fell into abject poverty. Additionally, one of her sisters was diagnosed with HIV. It was then that Kadzo realized that attending school was her only hope. Her grades started to improve once again. 
As she persisted, her friends and teachers encouraged her. She also thrived from access to three nutritious meals at school each day. At home, not even Kadzo's basic needs were being met. As long as Kadzo could get to school, she benefitted from academic instruction. She continued to hope that one day she would become a dressmaker.
Realizing a Hope
At 27 years old, Kadzo completed primary school and was accepted into a dressmaking course at the Marafa Vocational Centre. Thanks to Kupenda's advocacy efforts at the school, sign language interpreters were hired to help Kadzo and other hearing impaired students succeed in their studies. 
Today Kadzo is close to completing her course in dressmaking. Her instructors say she is a good student who can already sew dresses, shirts, and trousers without supervision. 
One of Kupenda's trained traditional healers, Gideon Malingi, is also beginning to counsel Kadzo and her family to ensure they are accessing the care and support they need to stay healthy and safe. Gideon will continue counseling the family until Kadzo completes her studies and graduates from our program. 
When she does graduate, Kupenda will provide Kadzo with the materials she needs to become a dressmaker.  Thanks to Gideon, Kupenda's field staff, and to the American couple who sponsored Kadzo 14 years ago, she is now on her way to living an independent life and achieving her dream.
You can Sponsor a Child, like Kadzo, for just $30 / month here! 
And check out our Sponsorship Frequently Asked Questions here. 
---
Want to keep updated on Kupenda's work?
You can follow us on Facebook, Instagram, LinkedIn, and Twitter.
And please also sign up for our monthly newsletter and updates here. 
If you're interested in supporting one of the many children we serve, head over to our sponsorship page to learn about how you can make a difference for just $30 / month.
You can also help children with disabilities stay safe and healthy during COVID-19 by donating here.
---