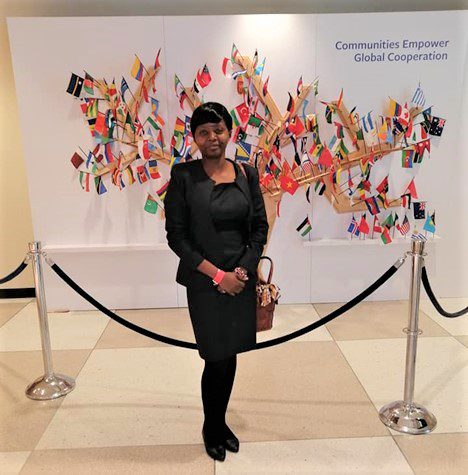 Lucky Mahenzo, Kupenda's Child Protection Officer, accomplished what very few Kenyan women have done when she became a lawyer. Disability justice has been an issue that has always been on Lucky's heart, especially as she was raised by Leonard Mbonani, Kupenda's Kenyan Director and a Kenyan professional with 40 years of disability advocacy experience. As such, Lucky has devoted her life to following in her father's footsteps and advocating for legal justice and equity for children with disabilities. In this interview, Lucky discusses how her law training is supporting Kupenda's disability advocacy work and her dreams for the future of the organization and the legal landscape for people with disabilities.

How is your law training supporting Kupenda's work?
When you look at the UN Convention on the Rights of Persons with Disabilities, persons with disabilities, they have a right to live in the community. … for children with disabilities this means the right to live with the family. But our system [in Kenya often places] these children in boarding facilities. … After learning that these children have a right to stay with their families, it has helped me to ensure that, if a child is able to attend a mainstream school that is near their home, they should attend [that] school. … I encourage these children to learn in these schools so that we do not separate them from their families because it has been seen to have a lot of [negative] effects on children with disabilities.

What are your dreams for Kupenda's future?
To see, one day, [our staff] representing children with disabilities in court [and] seeking orders to compel the county government or the national government to do that which they have promised to do for children with disabilities.  … Our laws are not sufficient, but we still have laws that can bring or effect change to children with disabilities. However, what we lack is the implementation. And who can force or order the government to implement a particular law? It's only the court. So, in the future, if we would be able to do this [legal advocacy work], then that is my ambition for the future as I work here.
What is one of the challenges you see in improving legal support for children with disabilities to achieve their rights?
Disability law is an area of law that is developing. Not much concentration has been given [to this field], especially in the African context. … It's an area that people have not yet seen to be lucrative enough to earn people a lot of money. That's why you find that there's not more people who want to learn more about disability rights. … not many have decided to further [their] education in this field.

What do you want people to know about the field of disability law?
The disability rights field is a very noble cause that people should engage in because [people with disabilities] are among the most marginalized and vulnerable people in our societies. There is no one who is willing to stand up or sacrifice whatever they have earned to fight for the betterment of their lives. So, I would encourage people to venture into this area of law, not just for themselves, but to give back to this community.
Lucky completed her Bachelor's Degree in Law from Moi University in Eldoret, Kenya and then went on to complete a Master's Degree in International Human Rights and International Disability Law and Policy from Syracuse University College of Law in New York.
To learn more about Lucky's work to support legal justice for children with disabilities, see a recent article she authored and a presentation she co-facilitated.
---
Want to keep updated on Kupenda's work?
You can follow us on Facebook, Instagram, LinkedIn, and Twitter.
And please also sign up for our monthly newsletter and updates here. 
If you're interested in supporting one of the many children we serve, head over to our sponsorship page to learn about how you can make a difference for just $30 / month.
You can also help children with disabilities stay safe and healthy during COVID-19 by donating here.
---