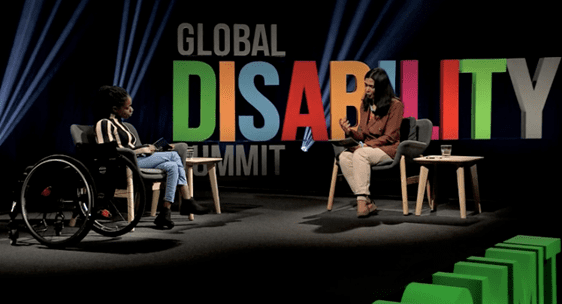 What is the Global Disability Summit?
Last month, I had the privilege of joining over 7,000 disability advocates across the globe for the second Global Disability Summit. This virtual event, hosted by governments of Norway and Ghana, as well as the International Disability Alliance, provided a platform for meaningful discussions about disability issues. The Summit sought to "further accelerate much-needed progress towards the fulfillment of the rights of persons with disabilities worldwide".
The virtual format of the event allowed many advocates who might not have been able to travel to Oslo (including myself) to participate in the Summit. In fact, in 2018, approximately 1,200 delegates attended the Global Disability Summit. But last week, with the help of technology, over 7,000 people were able to gather and engage in life-changing conversations about justice and inclusion for people with disabilities.
Committing to Change 
Before the Global Disability Summit, disability advocates, organizations, and governments were able to submit commitments to include people with disabilities in their work. These assurances covered topics such as economic empowerment, inclusive education, women and girls, stigma and discrimination, data collection, technology, and innovation. In total, the Summit gathered 1,289 commitments that will support worldwide efforts to address the needs of more than 1 billion people with disabilities around the globe.
Kupenda partners in these commitments by training thousands of families, youth and leaders as disability advocates who help over 70,000 children with disabilities access the education, medical care, and inclusion they deserve each year.
Nothing About Us, Without Us
"Nothing about us, without us." This powerful phrase reminds us that decisions should not be made about disability inclusion without consulting people with disabilities. In the spirit of this phrase, the Summit invited dozens of people with disabilities to share their personal stories, deliver musical performances, and discuss their beliefs and approaches around effective disability advocacy.
Among these passionate guests was American folk singer, public speaker, and disability advocate, Gaelynn Lea, who delivered a moving performance. John Chiti, executive director of the Albinism Foundation of Zambia, also shared a song about the importance of COVID-19 safety precautions, especially for people with disabilities, and reminded viewers that all people are worthy of equal opportunities.
I was incredibly inspired watching these musicians and other students, refugees, and executives discuss their efforts to overcome insurmountable odds, find their voice, and advocate for their rights.
Support this Global Movement to Improve the Lives of People with Disabilities
Here are some of the ways you can learn more about this work and get involved in this global movement:
Enjoy the Global Disability Summit performance and speeches by watching a recording of the event Global Disability Summit
Make a donation to ensure Kupenda has the resources needed to improve inclusion at the community and national level in Kenya and other low income countries around the world!
Spread the word online or in person – we need as broad a network of supporters as possible. Follow us on  Facebook, Instagram, LinkedIn, and Twitter.
Arrange a public event or fundraiser to share about Kupenda's work and raise more awareness and support for disability inclusion.
---