by Lauren Blair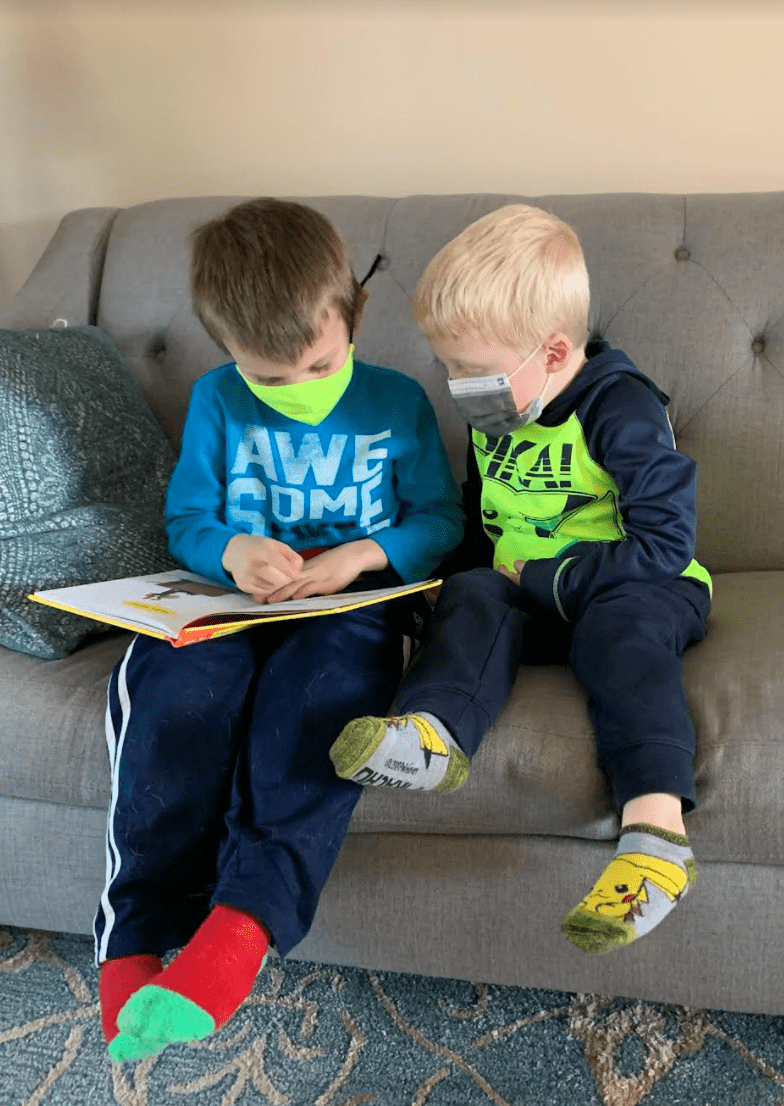 We've all succumbed to the purchase of one item or another as part of a child's school fundraiser. Somewhere in our closets and refrigerators lurk unsightly wrapping paper and poor tasting pizzas. So when my two elementary-aged sons arrived home with a notice about a school-wide fundraiser, I braced myself for something I probably wouldn't need.
This year's fundraiser, however, came with a twist that made it ideal for children learning either in-person or virtually. It was based on a concept called a Read-A-Thon. The activity engages children in reading for as many minutes as possible during an allotted timeframe. (In our case this was two weeks.) Friends and family then donate to the children's selected cause to offer encouragement during the reading process. Both the donors' contributions and students' reading progress are tracked (in some cases through a free online program) and then all proceeds are donated to a charitable cause.
In my sons' school, about 447 children (60% of the student body) decided to participate. While I thought the idea was intriguing, I was still taken aback by the level of determination I witnessed. Together these children read a total of 121,675 minutes–surpassing their original goal by 34,675 minutes! This was all the more meaningful since Stanford University recently published a study which showed that early childhood literacy levels have dropped significantly during the Covid-19 pandemic – in some areas by as much as 30%! In an age of COVID-19 restrictions that have affected learning at all levels, activities like Read-A-Thons are helping to combat these declines.
Adding to my sons' success was the knowledge that their efforts were also helping a greater cause. Not only did they and their classmates read voraciously, but they also raised a staggering $27,593!
As I started asking around, I learned that, a few years ago, children at Atkinson Academy in New Hampshire also participated in a Read-A-Thon. In this case, students raised a sizeable gift for Kupenda.
In partnership with the school, Kupenda promoted the fundraiser and gave a presentation to the students about the children with disabilities they would be helping. As a result of their efforts, students gained social awareness, while also helping impoverished children in Kenya access education and medical care. With the money raised, they were able to sponsor a number of children with disabilities to receive an entire year's worth of education. When worldwide, only 10% of children with disabilities are enrolled in school, this is yet another aspect to be celebrated.
Over the years, I have often witnessed the biggest hearts in the smallest bodies. It comes as no surprise then that such a resounding act of compassion is also being performed by little ones through their Read-A-Thons. Some of the most creative and generous efforts often originate from the seeds of kindness and concern in small children. May we all take a page out of their book!
For more information about partnering with Kupenda for a Read-A-Thon in your community, please contact us at [email protected].
And check out our 8 Ways Kids Can Get Involved with Kupenda brochure for more ideas!

---
Want to keep updated on Kupenda's work?
You can follow us on Facebook, Instagram, LinkedIn, and Twitter.
And please also sign up for our monthly newsletter and updates here. 
If you're interested in supporting one of the many children we serve, head over to our sponsorship page to learn about how you can make a difference for just $30 / month.
You can find additional ways for children to make an impact  here.
---