by Kupenda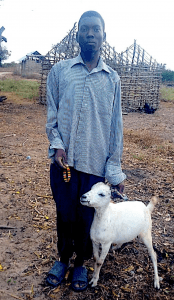 Earlier this week one of Kupenda's volunteers, Stephen Kitsao, was calling families in our program to screen them for Covid-19 symptom and assess their needs. Upon calling the home of Rajab Baraka, Stephen learned that, not only was the child healthy, but he was also helping to earn an income to support his family. He has earned so much, in fact, that he had even purchased a goat for the family!
"My heart leaped with joy when [the father] reported to me that his child has been making beaded [jewelry] and from the savings he gets from bead work he has bought a goat!" Stephen reported. "He got training [in beadwork] from school where his stay could not have been possible if Kuhenza did not pay the school fees!"
Rajab has a mental disability which impairs his speech. Doctors believe this was caused by malnourishment when Rajab was an infant. Both of his parents are peasant farmers, and with eight other children to care for, they often struggle to feed their family. This has been even more challenging during Covid-19.
Fortunately, Kupenda's support through our sponsorship program enabled the family to send Rajab to the Sir Ali Special school last year where he learned the beadwork skills and gained confidence to begin selling his crafts. Rajab's success is a great example to others his home and community – proving once again that "disability is not inability"!
"Kuhenza's impact is so real! The organization is really touching lives in Kilifi County," said Stephen, who is also living with a disability and thriving thanks to Kupenda's support in helping his graduate from school and enroll in college in Nairobi.  "And [Rajab] is just an amazing boy!" I hope his story will inspire many!"
To help other children like Rajab earn an education and the care they need to thrive, check out our sponsorship program or make a donation to support our work.
---
Want to keep updated with Kupenda and Kuhenza's work? You can follow them on Facebook, Instagram, LinkedIn, and Twitter. And please also sign up for their monthly newsletter and updates here. 
If you're interested in supporting one of the many children they serve, head over to their sponsorship page to learn about how you can make a difference for just $30 / month.
---