by Kupenda
Posted on August 11, 2017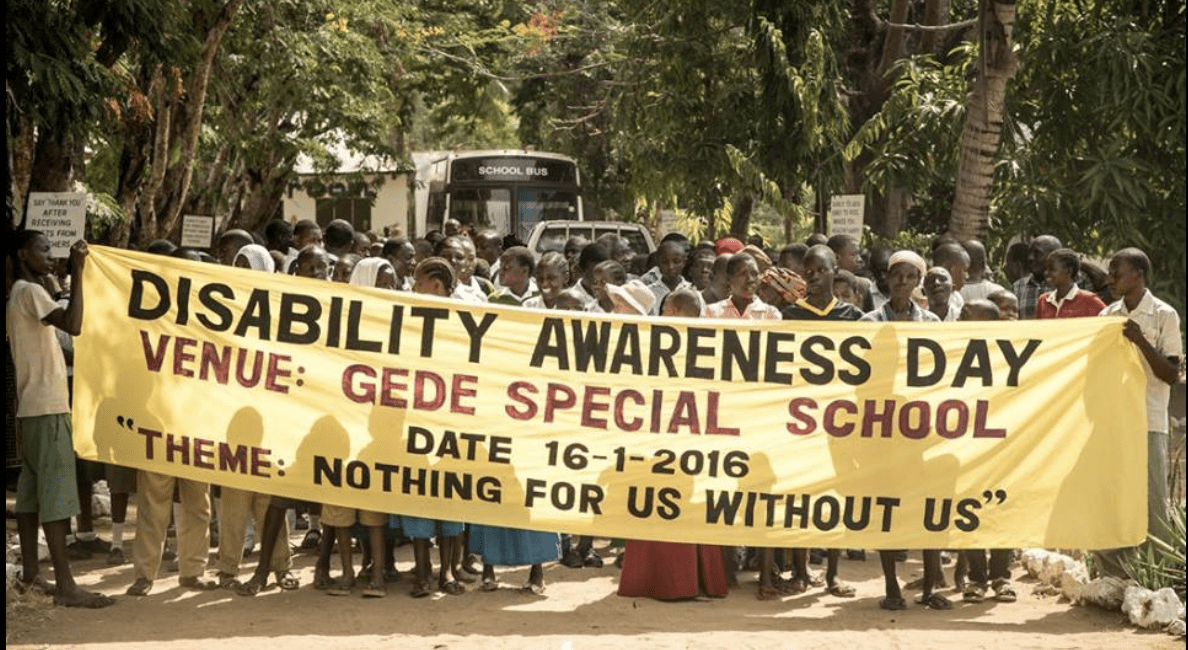 Tomorrow, August 12, marks International Youth Day, which this year, the UN has dedicated to:
"Celebrating young people's contributions to conflict prevention and transformation as well as inclusion, social justice, and sustainable peace."
Despite the violence we've seen this week in the wake of Kenya's national elections, we are proud to see that the children in Kupenda's programs continue to demonstrate tireless, peaceful advocacy for disability inclusion and justice. Some speak passionately at public events and others perform dramas and poems at Village Disability Awareness Days. Many even advocate through their own lives — showing others what is possible when they are given opportunities — either by hiking Mount Kilimanjaro or simply sitting in a classroom and learning alongside their peers.
But one of my favorite examples of our young advocates in action took place last year when hundreds of children with disabilities at Gede Special School formed a peaceful road block to petition the Kilifi County governor for therapy services at their school. Today, we remember this story in celebration of the strength, determination and success of these young students in, once again, showing the world that "disability is not inability."
It was late 2015 when Kupenda learned that the Gede Special School's occupational therapist, previously funded by Kupenda, had been offered a government-paid position and transferred to a new facility. The loss of Mr. Mutwiri was devastating to the Gede teachers and children, many of whom relied on his expertise and care for basic daily functioning. In response to his transfer, the Kupenda Executive Director, Leonard Mbonani, petitioned the Kilifi County Department of Health for his return. When the Department did not respond to his requests, our tenacious director arranged a powerful protest. He first called the Gede Police Department and received their support. Leonard then contacted the school and asked the head teacher and house parents to help him intercept the governor as he was driving through Gede.
Everything came together perfectly. As the governor was passing through Gede, he found that his car was forced to stop because the road outside of the Gede Special School was blocked by dozens of children in wheelchairs, teachers and young people. As the governor exited his car, he was met by Leonard and the Gede head teacher who explained their request for Mr. Mutwiri's return to Gede. The governor received the request in good spirits, greeted the children with handshakes, and soon thereafter, granted Mr. Mutwiri's return to Gede. Since this day, Mr. Mutwiri's salary at the Gede Special School has been fully-funded by the Kilifi County Government, which has enabled him to continue providing daily therapy to Gede's children with disabilities.
Happy International Youth Day from Kupenda and our peaceful, fearless, powerful children!
---