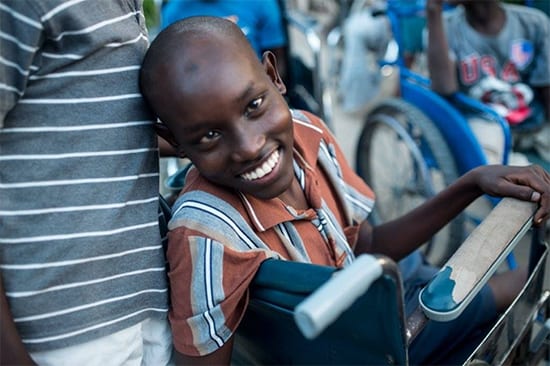 Since 2020, COVID-19 has had a significant impact on Kenyan families. The government's pandemic restrictions have caused many public spaces to close. The markets, for instance, have been shut down, making it challenging for families to sell their livestock and produce. This has been especially devastating in Kenya, where agriculture accounts for 40% of the overall workforce. The figure is even higher, 70% of the workforce, in the rural areas where many of our families live. This has prevented many from earning the income they need to provide for their families and has fostered an environment of fear and anxiety.
Families are worried, not only about financially providing for their children, but also about ensuring that they stay safe from the virus. With only about 10% of the country vaccinated, the pandemic continues to surge, and the poverty and anxiety continue alongside it. Fortunately, Kupenda has been able to provide some relief to Kenyan families impacted by disability during this challenging time.
For one, Kupenda has worked to make sure that families are educated about precautions they can take to keep themselves and their families safe from the virus. We have also distributed soap and masks to minimize the spread of the virus and food to keep them nourished and healthy.
Osman's family is among those who have benefitted from Kupenda's support. Osman is an 18-year-old young man who developed cerebral palsy after he contracted malaria as a toddler. Osman's father is a herdsman whose livelihood has been negatively affected by both the pandemic and current severe drought in the region.  His mother is unable to work as she cares for Osman and his seven siblings – a job that became even more demanding when schools were closed due to the pandemic. These conditions have made it difficult for Osman's parents to pay for his schooling and medical needs.
Fortunately, through Kupenda's sponsorship program, we have been able to help Osman enroll in a school where he has access to appropriate, high-quality education. At Gede Special School he performs well  and has mastered most of the concepts for his grade level. He is a bright young man who is focused on his studies and is in pursuit of becoming a doctor one day.
Osman is also kind, joyful, and friendly. Having a social personality, Osman has always desired to make friends. However, his lack of mobility has sometimes made that difficult. Fortunately, Osman now attends a school for children with disabilities where he can play and learn alongside other children like him.
According to Osman,
"I used to have low self-esteem. However, it is now boosted and I feel so confident in everything that I do. I visit school and that's the reason I feel confident because I meet others who are like me and we have teachers who are friendly and helpful."
Osman now has many friends with various disabilities. Although he is not hearing impaired himself, he understands a lot of sign language and he uses it to engage and learn with his hearing-impaired peers.
Developing these sorts of positive relationships with his teachers and peers has significantly increased Osman's sense of confidence and self-worth. Osman is now aware of his rights and his value. He says,
"I have a right to education, shelter, clothing and good nutrition. I have equal rights to other kids."
Osman is a wonderful example of the power of education in a child's life. Not only has he been equipped with an education which can provide him with a more hopeful future, but he has also found a community of friends and teachers who support him and have helped him develop confidence.
Learn more about our COVID-19 Relief Program and how you can get involved here!
Learn more about our Sponsorship Program and how you can
help children like Osman here!
---
Want to keep updated on Kupenda's work?
You can follow us on Facebook, Instagram, LinkedIn, and Twitter.
And please also sign up for our monthly newsletter and updates here.
---