by Kupenda

Since the outbreak of COVID-19, all types of violence against women and girls, particularly those with disabilities, has intensified. This is the Shadow Pandemic growing amidst the COVID-19 crisis and we need a global collective effort to stop it. What better time to act than, today, on the United Nations' International Day for the Elimination of Violence against Women. 
Remembering Women and Girls with Disabilities
Here at Kupenda, we are supporting the UN's efforts on International Day for the Elimination of Violence against Women by drawing attention to the fact that women and girls with disabilities are even more vulnerable to violence. For example, even before the pandemic began we knew that:
Girls with disabilities are up to 10 times more likely to be abused, raped and assaulted
83% of women with developmental disabilities experience sexual violence
Women with disabilities are especially susceptible to human trafficking and sexual violence
Some of the conditions that exacerbate vulnerability to violence among women and girls with disabilities include the fact that:
disabilities prohibit these women and girls from communicating what has happened,
intellectual impairments cause others to distrust their testimonies,
there is a lack of awareness about their rights,
these women and girls often fear of retribution by their abusers, especially those who are also their caretakers
How You Can Help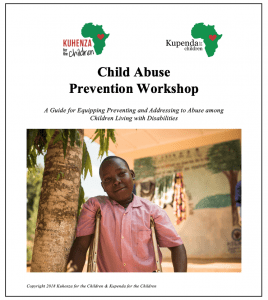 This year the UN's theme for the International Day for the Elimination of Violence against Women is "Orange the World: Fund, Respond, Prevent, Collect!"
You can join this campaign and make a difference by:
Starting your own conversation about gender-based violence using this toolkit and the hashtags: #GenerationEquality #orangetheworld #16days and #spreadtheword.
Donating to Kupenda's matching campaign which will help us to run more Abuse Prevention Workshops for girls with disabilities, women with disabilities, mothers of children with disabilities and our local leader disability advocates.
Sponsoring a girl or a young woman with a disability for just $30/month to help them access the care, support and education she needs to stay safe from violence and abuse.
Thank you for helping us raise awareness and support for eliminating violence against women and girls with disabilities! 
---
Want to keep updated with Kupenda and Kuhenza's work? You can follow them on Facebook, Instagram, LinkedIn, and Twitter. And please also sign up for their monthly newsletter and updates here. 
If you're interested in supporting one of the many children they serve, head over to their sponsorship page to learn about how you can make a difference for just $30 / month.
---