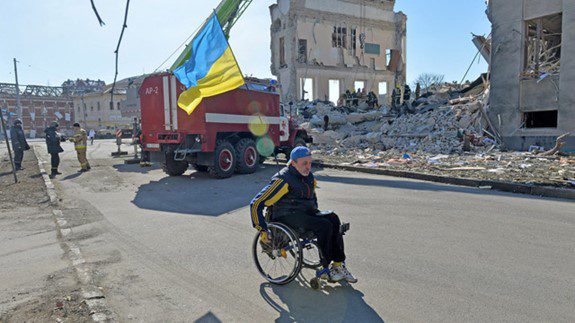 There are 2.7 million people with disabilities in Ukraine. These people represent the group most significantly impacted by the war with Russia. Among the greatest risks for Ukrainians with disabilities are:
Lack of timely information about the conflict in accessible formats;
Lack of safe centers, bomb shelters and evacuation pathways; and
Lack of access to lifesaving medical supplies.
A Historic Problem
Although the conflict in Ukraine has intensified and shed light on the inequities faced by people with disabilities, these struggles are far from new. People with disabilities have historically been outcast, isolated, and left behind.
In addition, in low- and middle-income countries around the world, incorrect spiritual and cultural beliefs about disability often pose greater challenges for people with disabilities than their physical limitations. For example, in the 16 countries where Kupenda's disability advocacy tools and approaches are being used, most people with disabilities are viewed as cursed, sinful and worthless. These beliefs often result in their neglect, abuse, abandonment and sometimes even murder.
In Ukraine, such neglect can be seen in the country's high institutionalization rates. According to Inclusion Europe, approximately 100,000 of the country's 261,000 people with intellectual disabilities (over 38%) are living in institutions where they have been cast off and disregarded by society. Eighty percent of these people are children. This is always concerning but particularly now when their isolation makes it even more unlikely that they'll be able to evacuate and find safety during the war.
An Effective Response
In response to these conditions, Kupenda has spent the past 23 years focused on transforming harmful beliefs surrounding disability to those that improve the lives of people with disabilities. As part of this mission, our team works to impart accurate, life-giving truths about disability to local leaders and raise them up as disability advocates. Kupenda's local leader advocacy trainings and community events have helped thousands of children with disabilities access the nutrition, education, medical care, and legal rights they deserve.
When children with disabilities, whether in Ukraine or Kenya, are healthy and empowered, they too become sources of advocacy in their communities. These youth show others what is possible when people with disabilities have access to appropriate support and adequate resources.
How You Can Help
You can support people with disabilities in Ukraine and across the globe and serve as a disability advocate yourself by spreading the word in the following ways:
Invite Kupenda's founder to speak about global disability justice (either in person or virtually) at your school, place of worship, book club, workplace or community group.
Engage in meaning discussions about disability by sharing data, stories and articles (like this one!) with friends, family, and coworkers.
Donate to support Kupenda's disability advocacy work or sponsor a child in need.
Use social media as a platform for fostering dialogue surrounding disability and promoting disability awareness (you could even share this blog to get a conversation started!)
You don't have to cross the globe to make a difference in the lives of children with disabilities. You can help end the stigma right where you are by being generous with your time and intentional with your words.
---
Want to keep updated on Kupenda's work?
You can follow us on Facebook, Instagram, LinkedIn, and Twitter.
And please also sign up for our monthly newsletter here.
If you're interested in supporting one of the many children we serve, head over to our sponsorship page to learn about how you can make a difference for just $30 / month.
You can also help children with disabilities stay safe and healthy during COVID-19 by donating here.
---