by Lauren Blair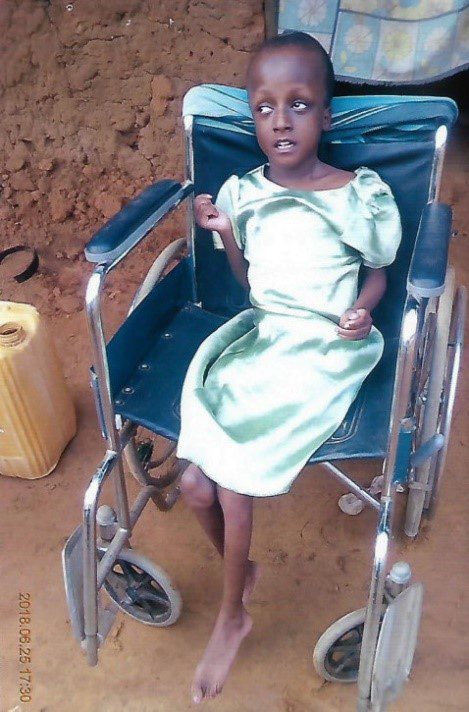 In 2005, Zawadi gave birth to a little girl named Marlin. Instead of responding with joy, her husband responded in anger–beating Zawadi until he chased her away. This is because, soon after birth, Marlin contracted meningitis which led to hydrocephalus, a condition that causes fluid to accumulate around the brain and interfere with healthy growth and development. Like many people in low-income countries such as Kenya, Marlin's father believed his daughter's disability was a punishment for a hidden sin in her mother's life. Ultimately, he abandoned the family, leaving Zawadi to support four children singlehandedly. Worldwide, 60% of children with disabilities live in the care of single mothers.
Zawadi said,
"I divorced my husband, and this made me to face a lot of difficulties on raising up my daughter Marlin. There is a very poor relationship between my family members and Marlin. This is because they see my daughter as a burden to them."
In subsequent years, Zawadi and her children worked together to care for Marlin, even when neighbors and friends did not understand their devotion. Due to her hydrocephalus, Marlin was not able to see, walk, or talk. Without medical intervention, her condition would progress to a life-threatening degree.
Global Context
Worldwide, hydrocephalus affects roughly 1 in 1,000 infants, and countries in Africa are disproportionately affected. While hydrocephalus does not have a cure, it can be treated surgically by inserting a shunt into the brain to drain excess fluid. While the technique saves lives, it is also prone to infection and blockage, creating the need for additional procedures. In fact, some individuals may undergo anywhere from ten to over 100 procedures in their lifetime. This creates a high financial burden on all families, especially those living in poverty.
Partnership for Progress
Fortunately, one day Zawadi met Kupenda's staff in Kenya, and she was finally able to receive support from people who recognized her daughter's value. Through their counseling, she learned that all children, including those with hydrocephalus, are capable of learning and have the right to an education. With financial support through her sponsor, Marlin began to attend school, use a wheelchair, and receive physical therapy and life-saving medical care. Today, when staff members visit Marlin, they notice that she has grown stronger, gained weight, and is often smiling.
Since Marlin's disability does not just involve a medical challenge but also the limiting perceptions of others, Kupenda is also offering counseling and disability training programs to those in her community. As a result, her neighbors and peers are beginning to understand her disability better and provide a more welcoming environment for her.
Due to the efforts of her family and Kupenda's assistance, Marlin and her mother are looking forward to a future with many more possibilities. According to one staff member,
"The mother has overcome stigma. She stood up for her child and she is doing what is right for her."
Zawadi herself said,
"I have peace of mind and soul. I have confidence and [have] accepted her condition."
---
You can Sponsor a Child, like Marlin, for just $30 / month here! 
And check out our Sponsorship Frequently Asked Questions here. 
____
Want to keep updated on Kupenda's work?
You can follow us on Facebook, Instagram, LinkedIn, and Twitter.
And please also sign up for our monthly newsletter and updates here. 
---