by Lauren Blair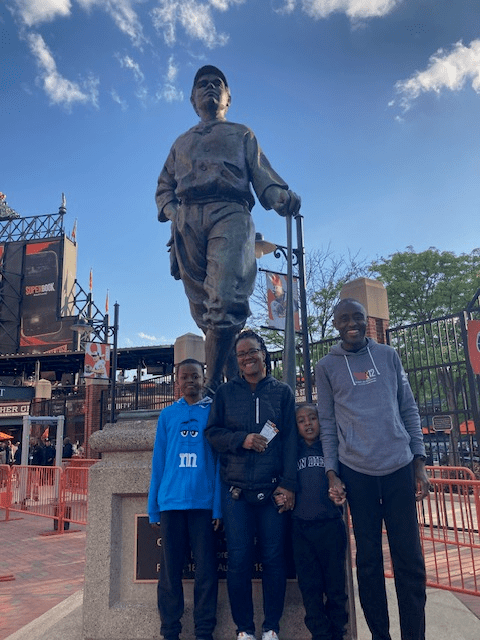 Mike and Janel Mbagu are new supporters to Kupenda, but their conviction about the effectiveness of its work and the desire to give back are noteworthy. Mike, originally from Kenya, is now living in Maryland and working as a pharmacist at Howard Pharmacy. His wife, Janel, is a microbiologist at Domino Sugar. They have two sons: George, age 11, who excels at math, and Gavin, age 8, who likes singing, music, and running around with his drone!
Since both of their boys are autistic, both Mike and Janel have become active supporters of a local autism organization. In addition, the whole family participated in Kupenda's July running challenge to raise money and awareness for children with disabilities, with Mike running hundreds of miles to support Kupenda's work!
Lauren: Mike, since you grew up in Kenya, can you tell me a little bit about the conditions you witnessed for people with disabilities there?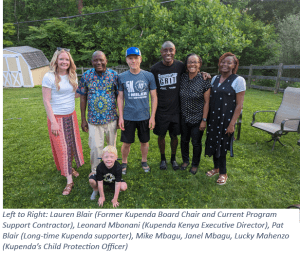 Mike: The people who colonized countries like Kenya [and brought Christian or Islamic beliefs] usually went to areas where there were cash crops—tea, coffee, and everything. In places like Malindi, where Mr. Leonard Mbonani [Kupenda's Kenya Executive Director] is from and Mombasa… that is not the case, and everything is just pretty much witchcraft.
You will also find that people with disabilities are very poor. They are begging the majority of times. … In Africa … we're used to someone who is blind being in tattered clothes, not clean, begging, and living with their family.
Lauren: Is there anything in particular that you think contributes to this?
Mike: There is a lack of services for people with disabilities. When you think about Kenya—Kenya became independent in 1965, so it's a young country. Social services usually come from wars because you have to tend to people and you build those structures afterwards. You begin to think of people who need to be taken care of because they served. Kenya has never really experienced a war.
Lauren: Are some disabilities better understood than others?
Mike: There are certain things like, let's say, blindness. You go to Kenya and you see someone with blindness in Nairobi. You see someone who can't hear in Nairobi. But if you start talking about something like autism and people will start shaking their head—like "What are you talking about?"
Lauren: Tell me a little bit about your experience as a parent of children with disabilities. When did you discover that your children had autism?
Janel: I think when George was one and a half, I noticed he wasn't talking. So, I approached the pediatrician. She said, "Give it some time, he'll start talking." So, when he got to age 2, he still wasn't talking. … So, I went online and it showed how some of the kids were acting who had autism. And I said, "George does some of those things." … Then we went through that process.
Lauren: Do you feel like you faced any stigma in the U.S. around disabilities?
Janel: Sometimes when you're out, people look at your kids funny because they're doing strange things. When I go out with him in public places, I have to wear an autism shirt. So, I just point to the shirt.
Mike: Sometimes people see the shirt and they're like "I get it." So, if we're going somewhere that is tough, that I've never been before, I wear my t-shirt.
Lauren: Tell me a little bit about how you supported Pat Blair during his effort to run a marathon a day for Kupenda in the month of July. How many miles do you think you ran of that goal?
Mike: 565 miles. She [Janel] ran 125 miles and Gavin and George both ran 25 miles.
Lauren: I know that Pat mentioned you were willing to keep him company while he was running during some challenging circumstances, such as thunderstorms and odd times of day or night. What was the earliest you both ran in order to accommodate your schedules?
Mike: 1:30am! He [Pat] asked me to run with him and run for a cause. … We could have lost sleep, but that was ok. Think about it. We're doing something for kids in Kenya and kids in the rest of the world… This is what we're supposed to be doing.
Lauren: I know that you recently got to meet Cindy [Kupenda's CEO] and Leonard [Kupenda's Kenya Executive Director) when they visited last spring. Was there anything that stuck out to you about Kupenda's mission or that you related to?
Mike: You just have to realize that this country [the U.S.] has given people a lot of opportunities and you can give back to meet someone's basic needs. … I said to a large number of friends in Baltimore—I was like, "Guys, we should do a little bit more." I think we can sponsor a kid or two.  … Maybe next year, when I have a party, I can see if Cindy [Kupenda's CEO] can be there. … Next year, my goal is to find out how to put it together. … Kupenda's services are making progress. … Progress takes time. When I pray, I ask God to give me power to go through and for God to give me patience to wait for the results.
---