by Sandra Bauer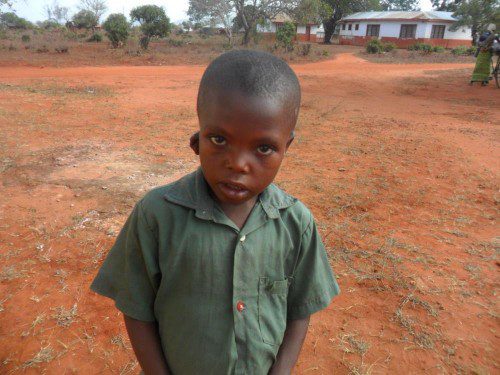 Martin is a young boy that contracted tuberculosis as an infant. He survived the disease but was left permanently deaf and unable to speak. His only means of communication with his family were gestures, which the family did not always understand. At those times, Martin would get very frustrated.
His father, a mason, and his mother, a farmer, had difficulty earning enough income to meet the family's basic needs. At times, three meals a day were not guaranteed.
Despite these hardships, however, Martin maintained many friendships with his kind and helpful demeanor. He especially enjoyed making cars, playing football, drawing pictures of animals, and spending time with his friends.
Unleashing Martin's Potential
In 2020, a Kupenda sponsor gave funds for Martin to attend the Gede Special Primary School where he could receive an education and be guaranteed three meals a day. Unfortunately, since Kenya was in the middle of the Covid-19 pandemic and schools were closed, Martin had to wait almost half a year before he could begin his classes.
Then, last year, at almost 10 years old, Martin was finally able to start his education. At the Kupenda-supported Gede School, Martin learned to communicate using Kenyan Sign Language. Martin now had a "voice." At home, his mother also learned sign language so she could better understand her son's needs.
Today, Martin is healthy, has plenty to eat, and is in first grade at his school. He is meeting expectations in all subjects, can complete addition, and can read three letter words. He is even considered the class leader.
Community Impact Through Example
Martin's mother said,
"I feel good now that my child is in school and can now communicate with us at home. Whenever I don't understand him, he writes down what he wants to say."
She went on to explain how her son's transformation has inspired her to become an advocate for other children with disabilities in her community:
"[Martin's progress] has given me courage to visit two children [with disabilities] in our community who were just left at home while others went to school. I talked to the parents on the importance of taking those children to school and referred them to [the] Sir Ali Special School. Today, one of them joined Sir Ali and the other is enrolled in a special unit near home."
Due to Kupenda's education, medical, and advocacy programs, along with the help of a sponsor, all three children are now in school learning, making friends, and getting the attention they need. In addition, their community leaders and neighbors are benefitting from Kupenda's counseling and training efforts that sensitize them about the rights of children with disabilities and to the value of including these children in all aspects of society. While two years ago all three children with disabilities were denied the opportunity to learn and were left at home, today they are unlocking their full potential for a brighter future.
---
You can Sponsor a Child, like Martin, for just $30 / month here! 
And check out our Sponsorship Frequently Asked Questions here. 
_____________________________
Want to keep updated on Kupenda's work?
You can follow us on Facebook, Instagram, LinkedIn, and Twitter.
And please also sign up for our monthly newsletter and updates here. 
---