by Lauren Blair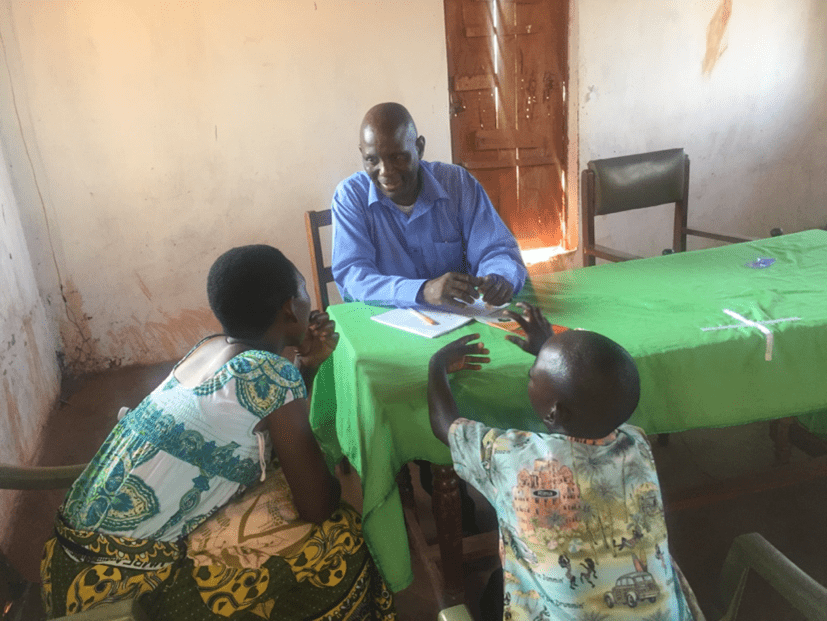 Each year, Kupenda for the Children counsels thousands of people impacted by disabilities and their family members. According to Kupenda's Project Officer in Kenya, Loice Maluki:
"Families impacted by disability wrestle with multiple problems such as, emotional shock, blame, guilt, and lack of awareness about the child's disability. Counseling helps them become aware of the child's disability, possible causes [and] care, and connects them to available resources, thus improving the child's quality of life."
Informed and Supported Care
Kupenda's counseling addresses a number of issues to support people with disabilities, including:
In many low-income countries, many people view disabilities as a curse from God, resulting in social isolation, abuse, and even death. Kupenda dispels these myths by educating parents on the correct causes and interventions for disability and encouraging the value and worth of all individuals. In many cases, this has contributed to the reunification of parents with their children after years of abandonment.
Many people in low-income countries do not believe a child with a disability is capable of learning or receiving an education. In fact, 95% of children with disabilities are not in school. Kupenda assists these families by referring them to schools catered to meet their unique needs.
Kupenda improves health outcomes by guiding families in appropriate medication management, doctor visits, physical therapy, immunizations, and nutrition.
Kupenda staff help families register with the government to receive appropriate services/funds and link them to income-generating opportunities.
People with disabilities are two to six times less likely to be employed. Kupenda staff assist youth with disabilities in vocational opportunities after finishing their education.
Kupenda staff utilize a Disability Law Guide to inform families about their rights and protections under the law.
Currently, children with disabilities are almost four times more likely to experience violence than non-disabled children. Kupenda's Child Protection Officer and other trained staff help families strengthen their capacity to prevent, recognize, and defend children from mistreatment.
Many families benefit from being connected to others in similar circumstances. Kupenda staff connect families to support groups and disability-trained community leaders who can advocate on their behalf.
Valentine's Victory
Over time, these counseling sessions represent a continued investment in the productive outcomes of the lives of beneficiaries. Maluki reflects:
"Counseling families impacted by disabilities is a process that requires patience and passion. Sometimes you have to do lots of follow ups on the same issue affecting the child before a parent takes a step."
One instance where this was evident was when a father abandoned the family when he discovered his daughter, Valentine, had been born with cerebral palsy.
After Kupenda offered several counseling sessions and referrals, Valentine was enrolled in school where she accessed daily therapy. Eventually, Valentine's father heard of his daughter's improvement and visited Kupenda's office in Kenya to learn more.
Today, Valentine is cared for by her whole family, including the father who had initially abandoned her. Due to the support of her family, community, and Kupenda, Valentine has now attained full head control, developed trunk stability, can roll from side to side, and can sit and crawl. She has all the care and support she needs to thrive!
Supporting Happy
Like Valentine, a young boy named Happy had difficulty being accepted by others. Happy's autism manifested in behaviors that were often challenging for others to understand. With Kupenda's counseling, however, Happy's mother learned strategies for caring for her child. Today she takes Happy to all his medical checkups and has enrolled him at the Sir Ali Special School where he can interact with others.
In addition, Kupenda referred Happy's mother to a parent support group which accepts her family and assists her with school transportation when needed.
Leaving an Impact
Many families like those of Valentine and Happy benefit from Kupenda's counseling by demonstrating improved health outcomes, strengthened communication, and reduced instances of abuse.
Furthermore, many of these families have gone on to advocate for other children with disabilities within their community. According to Maluki, one of the most rewarding aspects of her job is:
"…seeing families impacted by disabilities shifting their mindset from the superstitious beliefs about disability causes to medical [ones] and becoming advocates not only for their own children but also others within their communities."
With continued help from supporters like you, many families may find increasing acceptance and inclusion within their communities for years to come!
---
Want to keep updated on Kupenda's work?
Learn more about Kupenda in our podcast.
Or sponsor a child in need for just $30 / month.‌
---