by Loice Maluki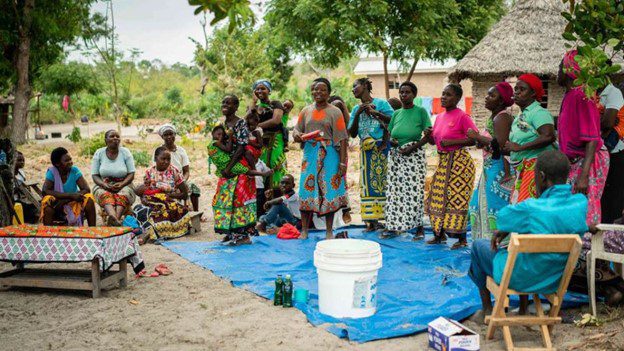 Kuhenza for the Children uses many different approaches in an effort to educate and support parents with a disabled child. One initiative is to assist parents to form support groups where they can help each other.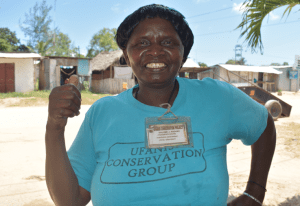 As mentioned many times before, we often come across incorrect beliefs about disability and its causes. So, for parents with a disabled child, it can be very hard to find support from family and neighbors. That's why the help these parents can give each other is so important.
One such group is Upendo Parent Support Group in the village of Arabuko. It was started in 2018 by Salome Nasoro, one of the many traditional healers Kuhenza has trained in disability advocacy. Salome identified parents of children with disabilities in her community and came to Kuhenza to ask for training and support for these parents to start a parent support group.
Kuhenza organized a workshop in Arabuko where parents were taught the rights of children with disabilities and the responsibilities of parents to care for these children and include them in the community.
After the workshop, this group of parents formed the Upendo Parent Support Group which has 14 members. Their children have a wide range of disabilities such as cerebral palsy, epilepsy, microcephalus, Downs syndrome and hearing impairment.
Kuhenza supports the group with counselling sessions, education and medical referrals as well as giving nutritional support and medication. Kuhenza's occupational therapist visits the group every Saturday to give physiotherapy to some of the children. [She] also teaches the parents basic therapy skills that they can use every day at home to improve their child's quality of life. Another important skill some parents have learnt is how to properly and consistently administer seizure control drugs.
Meeting the parents and asking them how they feel, Upendo Parent Support Group has helped them they all agree that the emotional support they give to each other is a very big help. At their weekly meetings there are no problems or issues too small to discuss. Everyone feels that they now have a safe place to talk about the difficulties they face when parenting a child with disabilities and a time when they won't be judged or criticized.
I heard of one mother who was worried that she had to sleep in the same room as her 16-year-old son who is mentally challenged. She didn't feel it was right but had no other option as she is very poor. After sharing this problem with the group they all helped her build a mud house with a thatched roof for her son. They told me this as an example on how much they all care for each other.
[The] Upendo Parent Support Group makes liquid soap and the members sell it. The money they make is used to buy milk and food for their children and they also use the soap for washing dishes and clothes.
At each group meeting, they each give 50 shilling [about 50 cents] and at the end of the meeting then lend the money to a member who then returns the loan with a small interest.
Salome Nasoro has given each of the members 15 passion fruit seedlings to grow at home and hopefully they will be able to harvest and sell the fruit later in the year.
The parents tell me that Upendo Parent Support Group has changed the negative attitudes they used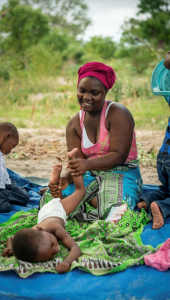 to have towards their children. Before, they used to hide their children and were ashamed of them but today they have accepted them, love them and include them in all aspects of their lives.
Not only that, but they are now all advocates for all children with disabilities and have given public talks about the subject in their community.
There is no doubt that Kuhenza for the Children's work with these parent support groups is very important. Upendo Parent Support Group is just one of many [parent support groups], but as a result of the increased awareness of these parents and their changed attitude towards their children, they are now deeply involved in the care of their children.
Some of the children had experienced severe feeding problems, but now they eat well. Some who were unable to hold up their heads or hold something in their hands can now sit up and hold a toy.
The parents assure me that without the support and help from Kuhenza for the Children their children's lives would be very different and so would their own. Now, like any other parent, they celebrate every small success and improvement their child makes and they are very proud of them.
Want to learn  more about Kupenda's Parent Support Groups? Check out this short video to hear first-hand from some of the parent members!
This article first appeared on the website of our affiliate organization, Kuhenza for the Children. It was written by Kuhenza's Project Officer, Loice Maluki, with support from Kuhenza's Board Member, Susanne King. Kupenda and Kuhenza have been working together for more than 20 years to improve the lives of families impacted by disability in Kilifi, Kenya.
---
Want to keep updated on Kupenda's work?
You can follow us on Facebook, Instagram, LinkedIn, and Twitter.
And please also sign up for our monthly newsletter and updates here. 
If you're interested in supporting one of the many children we serve, head over to our sponsorship page to learn about how you can make a difference for just $30 / month.
You can also help children with disabilities stay safe and healthy during COVID-19 by donating here.
---