by Kupenda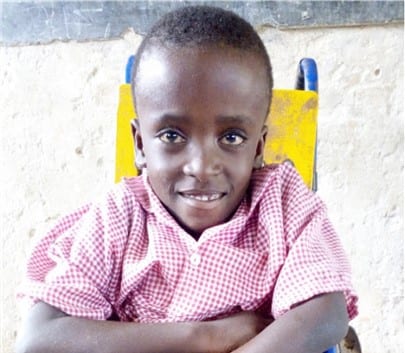 Brighton is a very intelligent 8-year-old boy and a student at Kizurini Special School in Pre-primary 1. He is a good student who excels in math. He even helps other students with their studying. His parents were divorced and left him in the care of his impoverished grandmother. Kupenda was called to action when they became aware of Brighton's situation and helped him by supporting his medical needs and providing him with an education.
He has spina bifida which means he has no control of his bowels. He also develops wounds easily which have to be medicated and treated.
He is a friendly young boy. He enjoys watching television, trading stories with his peers, singing and dancing. He is a member of the health club. He cheers for his friends when they are playing competitive team sports. He leads others in prayer and may become a minister someday.
Our Kenyan staff counsel all families and children in our programs. Brighton's family has been counseled on the rights of children with disabilities, referred to appropriated medical and educational facilities,  and advised on the proper care and nutrition for their child. Brighton has also been counseled to accept his disability, and as a result, has gained more self esteem.
To enjoy more stories about the impact of Kupenda's work and your gifts, please sign up for our newsletter here. 
---
 Want to keep updated with Kupenda and Kuhenza's work? You can follow them on Facebook, Instagram, LinkedIn, and Twitter. And please also sign up for their monthly newsletter and updates here. 
If you're interested in supporting one of the many children they serve, head over to their sponsorship page to learn about how you can make a difference for just $30 / month.
---